This holiday season, consider giving the gift of security, education or youth empowerment!
Children's Future is a registered 501(c)(3) organization. All contributions are tax-deductible to the extent permitted by law.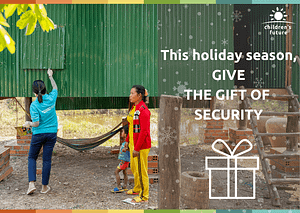 Give the gift of security to ensure that children and their families have their basic needs met through emergency food support, livelihood support, housing support, counseling, positive parenting training within the community, prevention and reintegration.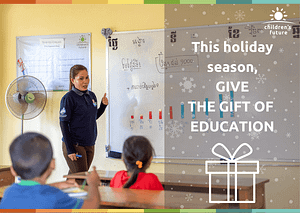 Give the gift of education to support children accessing supplementary classes in Khmer, Maths, English and Computer science and help keep them in school by reintegrating them into the education system, providing university scholarships or helping them access vocational training.
Give the gift of youth empowerment to provide additional opportunities for children to learn and grow outside of the classroom, building life skills and leadership skills so they can reach their highest potential and become role models and future leaders in their communities.
"There is in fact a significant return on investment in education… $1 invested in education today returns $53 in value to the employer at the start of a person's working years."
Investment in Global Education
A Strategic Imperative for Business

Brookings Institute 2013