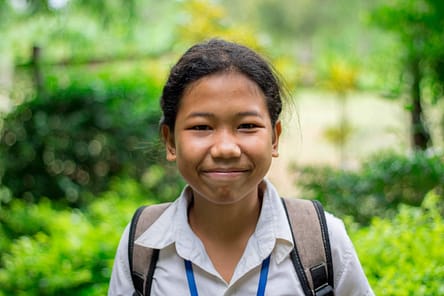 Meet Yary. She is 14 years old and she is a new member of our reporter group. She studies grade eight at Pheam Ek Primary School and would love to tell you why CFI is her second home.
When I first started with CFI, I was so scared to play with other kids and speak to staff. After a month, I feel happy to come to CFI to play with my friends and study with my Khmer and math teachers.
When I finish my classes at the public school in the morning I always come to CFI in the afternoon to study Khmer, math, English and computer subjects. My favorite subject is computer because I like to learn new things, especially technology.
When I have free time I go to the library to read books and play toys with my friends. There are a lot of books for students to read and if you can't read the librarian will help. All teachers at CFI always encourage students to study hard and come to study every day, they want us to do great in class to get better results and get a good job in the future.
When I got sick and couldn't go to school, the social worker came to visit me at home. They asked my school for permission until I was ready to study again. And the health care center at CFI provided me with medicine to take care of my illness until I got better.
When I feel bored, I can always go to the garden to relax because there are a lot of big trees that have shade and fresh air. Most of the kids always go to the garden to play with their friends after their class. At the back of the garden we have a football field for older students and teachers to play.
Hearing the sound of joy from everyone makes me feel warm and happy, just like my second home.