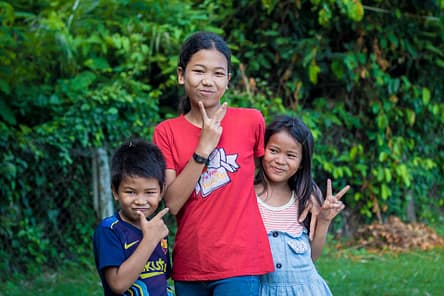 Meet Yary. She is 14 years old and she is a new member of our reporter group. She studies grade eight at Pheam Ek Primary School and would love to tell you about her Pchum Ben Day.
Pchum Ben is one of the largest festivals in Cambodia. Every year in October, people always celebrate the Pchum Ben Day to dedicate the food and other offerings through the monks to their relatives who have passed away because we believe that some of the dead receive punishment for their sins in hell. Pchum Ben also one of the most common public holidays that all the family members have to come back home from anywhere they work to spend time with family.
A day before Pchum Ben Day, my family always make the Khmer traditional rice cake wrapped in banana leaves called "នំអន្សម" and there are many kinds of it, but the most common ones are banana and pork and mung bean. Pork and mung bean is my favorite one – it tastes so good! Before we made the rice cake, my mom and I collected the banana leaves and cleaned with my sister. And my brothers and dad prepared the coconut milk to mix with the rice to cook before we wrapped with other ingredients.

The next morning, we went to the pagoda to dedicate the food and drink through the monk to our relatives who have passed away and might be in hell. We hope they receive all our prayers and will get out from hell soon.
After we came back from the pagoda we had a small party at home with the whole family and we had a great time together. Other families had trips to visit other places in and outside the city.
I'm very happy to have Pchum Ben Day as a holiday in Cambodia so my family can have a great time and make a lot of great memories together.