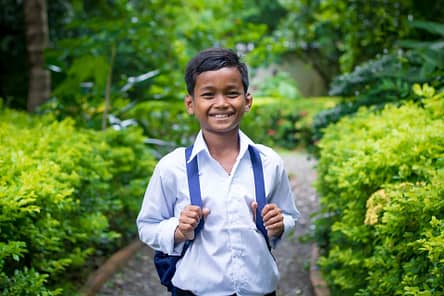 Mony is 11 years old and has just joined CFI's reporter club. He's in grade six at Sorm M'nos Elementary School and would love to tell you about how he prepares himself for the new school year.
When November comes, every public school starts and students prepare themselves for the next school year. Students get back into the habit of studying again. Some students review their lessons and some students start doing self-study at their home too. Everyone busy preparing material for school, just like me.
Two weeks before starting the new school year, I review the old lesson from the previous class and set up the schedule for my new class. I try to do self-study at CFI to get into the habit of studying again. I prepare all the school materials for the new class like books, pens, pencils, a ruler, a bag and uniforms.
For this new school year, I'm going to be in grade 6, the last year of elementary school, and I'm very excited to learn new things with my new classmates and probably a new teacher too. I'll spend my free time more for self-study after school at CFI. I promise that I'll do my best to get the top grade in the class and be ready for Secondary school​ life.