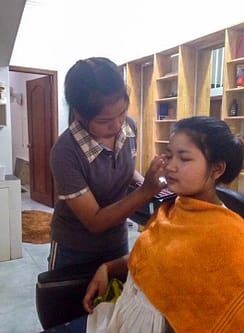 Vanny is 17. When she was 15 her father passed away and her mum struggled to find employment in Ek Phnom. Vanny's mum moved to Siem Reap for work, leaving Vanny to live with her uncle.
Vanny's mum returned when she could to visit. Vanny's uncle made sure she had a safe place to live and food to eat, but he was not engaged in her education. Left to her own devices Vanny stopped attending school regularly and when she did attend found it difficult to catch up on her lessons. In April last year, Vanny decided to stop school altogether.
Vanny's case was referred to our Education Advocacy (EA) team for support with career guidance and conversations with the EA, she decided to study vocational training with Caritas (a vocational training center in Battambang). She studied as a beauty therapist. While working with the EA team Vanny spoke of her love of dressing up and spending as much of her free time as possible at the local beauty salon. She was particularly impressed with the makeup skills and says she dreamed at home of becoming a make-up artist. CFI engaged Vanny's mum, Sreytha, in the plan for Vanny to attend Caritas. Sreytha was supportive of this plan.
By the end of December 2019, Vanny graduated Caritas and got a vocational training certificate in Beauty Therapy. Because of her hard work and dedication, Vanny was offered an opportunity to work in an amazing salon in Siem Reap. Vanny jumped at the opportunity to not only follow her dreams but also to be closer to Sreytha, they are now back living in the same house in Siem Reap.
Vanny tells us" I am really proud of myself and I feel more confident in life and my future". She said that "if CFI didn't help me to enter vocational training I would not have known about this opportunity".
We are happy to report that Vanny is doing great in her job and is loving living back with her mum. She tells us her favorite part of the job is doing people's make-up, and we love to catch up with her because every time we see her she has a fun colorful new style.