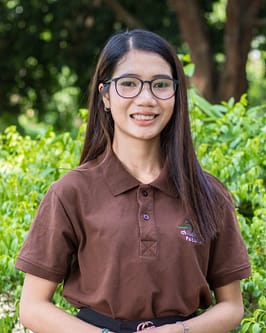 Phalla is 20 years old and in the fourth year of an Accounting degree at the University of Vanda. Phalla received education support from CFI since 2014, and when she started her university degree, she started work as an intern at CFI.
Starting in the School team, Phalla taught Khmer, Math, and English, designing lesson plans, working as a librarian, and purchasing school materials. She then applied to work as a social work intern and worked for 6 months preparing reports, and working directly with families and communities. Phalla was also involved with other interns in organizing CFI staff dinners and CFI graduation day ceremonies.
As part of the CFI internship program, Phalla received training in 10 work-related competencies and gained experience in event and project management. After completing the internship, Phalla obtained work as Assistant Manager at a Battambang restaurant, and in an accounting role in a private firm before returning to work at CFI as Admin, HR/Finance Assistant. Here she is able to apply her skills from her major at university. In the future, she would like to become an auditor.
Phalla says she learned a lot from the intern program at CFI which helps university students and vocational skill students learn new skills, get new experiences, and apply for future jobs. She learned how to communicate, listen, write, be brave, and learn. She told us this experience gave her the confidence to apply for jobs in new workplaces.
"The intern job helped grow me to be ready for my future career and the most important thing is I am a role-model of the new generation. I chose to intern at CFI because I used to be a student at CFI and I wanted to pay back to CFI for their ongoing support. Also, I can earn some money to support my family and others."