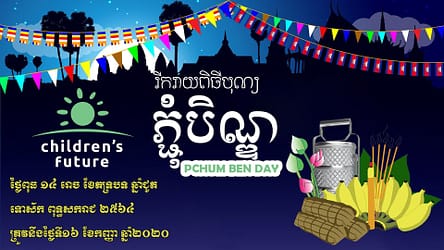 In the previous newsletter, we talked about how different Khmer New Year was, due to COVID-19 in Cambodia. This month we want to tell you more about another big holiday and celebration day during the year which is Pchum Ben Day!
Pchum Ben is one of the largest festivals in Cambodia. Every year in October, people celebrate Pchum Ben Day to dedicate food and other offerings through the monks to their relatives who have passed away. This is because we believe that our ancestors are closest to this realm at this time and that some of the dead receive punishment for their sins. Pchum Ben is also one of the most common public holidays when all the family members come back home from anywhere they work to spend time with family.
After the risk of COVID-19 reduced in the country, the government decided to celebrate this holiday for people to have time with their friends and family. We were all still encouraged to keep a safe physical distance and follow the instructions of the Ministry of Health. This meant there was no big celebration but we still do what we usually do during Pchum Ben Day like making the Khmer traditional rice cake wrapped in banana leaves called "នំអន្សម" and there are many kinds of it, but the most common ones are banana, and pork and mung bean.
One of the children shared her Pchum Ben Day with us " In the morning, we went to the pagoda to dedicate food and drink through the monk to our relatives who have passed away and might be punished. We hope they receive all our prayers and will get out soon.
After we came back from the pagoda we had a small party at home with the whole family and we had a great time together. Other families had trips to visit other places in and outside the city.
I'm very happy to have Pchum Ben Day as a holiday in Cambodia so my family can have a great time and make a lot of great memories together. "