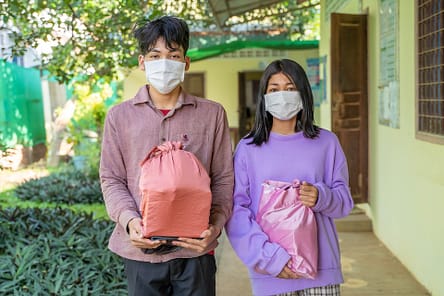 CFI children are excited to be back after almost 18 months of COVID school closures.
Due to COVID-19, some families lost their income and as a result couldn't find the money to provide education essentials such as uniforms, a bicycle for transportation, or even school materials for their children to go to school. That's one of the reasons children in remote rural areas drop out of school at a very young age.
So CFI takes the first step to support families to ensure every child goes to school again.
Like every year, CFI has provided school materials to the students we're working with to ensure they have everything they need. Alongside this we are making sure that every child is vaccinated against COVID, a new requirement to attend public school.
This year, we supported 265 students with school uniforms, materials, and 21 bicycles for those far from school and who need a ride to get to school.
Now that public schools have returned, the CFI learning center is also preparing our new school year semester, so it's good for our students to have everything they need to be ready for their learning.
A huge thank you to everyone who was involved in preparing all these materials for our students, and to BASAID for their generous donation to our education program. Well done!