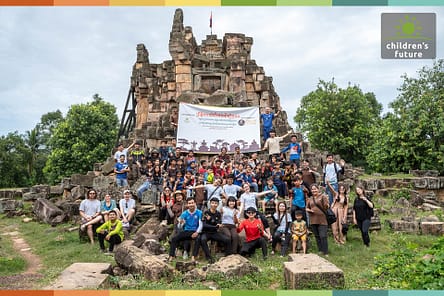 CFI's first-ever cycling event!
CFI hosted our first-ever cycle event on September 30, 2023, to raise money for CFI's work in the Ek Phnom district of Battambang, Cambodia.
The cyclists were divided into two groups. The first group consisted of community members who had registered cycle from Soksabike in Battambang town. The second group consisted of our CFI Learning Center children, who were eager to participate in this event.
The plan for this event was to ride from CFI's Learning Center and Soksabike simultaneously, meet up at Ek Phnom Temple, where one of our staff members gave some information about the temple's history to all participants. After that, we rode to CFI's new land, which will be our future home.
We grabbed some snacks, played games with everyone, and planted two Persimmon trees as a symbol of CFI's past and future on the new land before returning to the Learning Center and Soksabike.
The first-ever CFI cycling event was an absolute success raising about $3,000 through online support and in-person participation! Thank you to the more than 80 people who took part in this excellent event, which will have a direct impact on CFI's programs in Ek Phnom district of Battambang, Cambodia.
And, of course, we want to extend our greatest thanks to our sponsors and individual donors for making this event possible.
We were pleased to see everyone smiling and having a good time, and we hope that the event will be a success again next year!