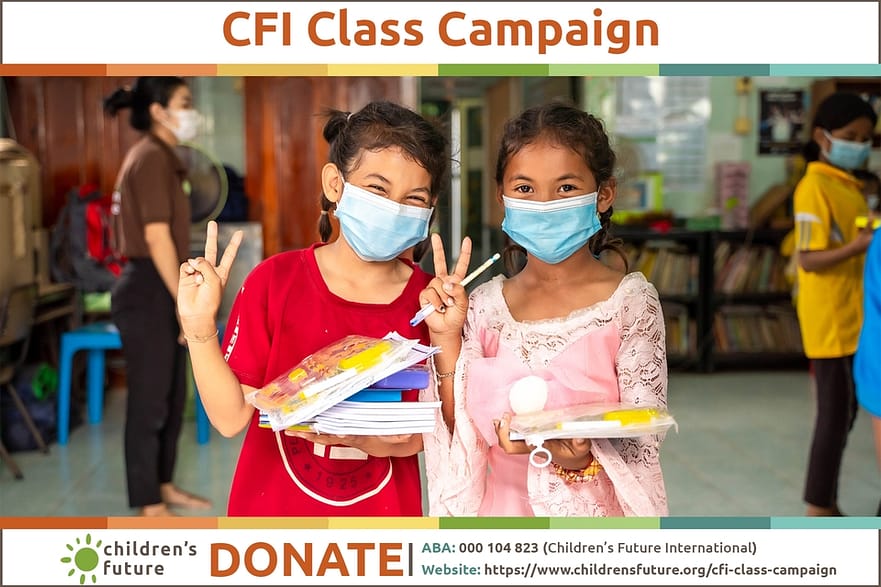 To celebrate students starting the new school year at the CFI Learning Center, CFI is kicking off its first-ever online campaign! The campaign focuses on supporting students who have fallen a grade behind in their studies after school closures were implemented due to the COVID-19 pandemic. Over the next five weeks, we will bring you closer to CFI's Learning Center by giving you a glimpse of everyday activities. You will get an inside look at the different classes, get to know the amazing teachers, and gain a better understanding of supplementary education at the Learning Center.
During the COVID-19 pandemic, Cambodian schools were closed for face-to-face learning for more than half of the school calendar year (2020-2021), one of the longest in the region. Although students were supposed to learn remotely, around 70% studied for fewer than three hours per week since many did not have internet access, technology, or adult support to follow the material from home. When children returned to school in November 2021, and the CFI Learning Center reopened in the beginning of 2022, it became clear that students had fallen a grade behind in their studies and were struggling to get back to their study routine.
Many students worked or took care of younger siblings during the pandemic in order to help support their families. For them, returning to school has been challenging. CFI teachers have been working tirelessly to provide extra support for students to catch up on their studies, but it will take significant time and resources to give children the support they need and deserve.
At CFI, we are dedicated to providing the best possible support for our students, but for that, we need your help! We have the goal of reaching $10,000 to allow us to continue providing quality support and encouraging students to reach their highest potential!
Click on the video to get an insight into what CFI does at the Learning Center!
CFI provides supplementary education to 108 students in the Ek Phnom district of rural Battambang. Children attend public school in the morning and then come to the Learning Center in the afternoon to take extra classes in Khmer, Math, English, and Computer science.
After long school closures in Cambodia, supplementary classes are more important than ever. CFI uses child-friendly techniques that help kids learn in a better, more engaging way and encourages them to think critically. It is great to see children back at the Learning Center again, where they not only study to improve their school performance but can be a part of a caring community.
Help our Learning Center team to continue the amazing work they have all been doing!
Please consider donating at CFI Class Campaign or for in-country donation at ABA: 000 104 823 (Children's Future International)!