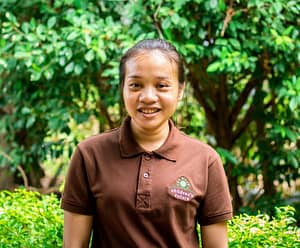 You may recognise Muyteang. We last wrote about her in December 2015 under the pseudonym "Rachanny".
At the time we told you how impressive she was as a student and how she had worked hard to overcome the loss of both parents at an early age. More than three years later Muyteang continues to impress everyone and is a confident, independent young woman.
With CFI's support Mouyteang has been living independently for the past three years. She has learnt a lot from her independent life, including how to look after herself – cooking, cleaning, managing money – and deal with daily problems.
After she graduated from high school in 2017 she was offered the opportunity from CFI to join the internship program. She has now been working as a Data Analysis and Reporting assistant for almost two years.
Muyteang says she loves her job because she learns so much from it. "I learn new things every day from my boss," Muyteang says. "I know about the process of working, I know a lot of people, and I gain good experience from working here at CFI.
"They always support me and give feedback from my work – both good things and what I need to improve."
Because of her academic achievements Muyteang was awarded a full scholarship to Build Bright University by Great Peace Cambodia, a Korean NGO, and this year she started her second year studying management.
"I am very happy that I got a full scholarship to study at university," Muyteang says. "Education is important for me and my family, because education is the key to success in life. I'll graduate university and find good work to help my family live a better life."
Muyteang says that the English language skills she learned from CFI's supplementary education program, funded by Better Lives, have made a huge difference in her studies and her job. "At university, knowing English helps for doing research on the internet for my homework and assignments, and also because most of the subjects are written in English," she says.
"And it helps me to do things at work easily because I need to read English documents a lot and when I'm sending emails I need to write in English. If I didn't know English it would make things very hard!"
Muyteang says her career goal now is to work as a project manager at an NGO and make a difference. "I want to help families who are living in hard situations to have the chance to change their lives," she says.