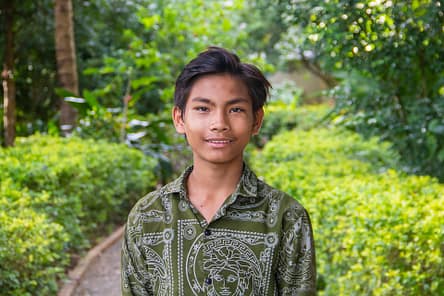 TingGi is 11 years old and has just joined CFI's reporter club. He's in grade four at Kdol DounTav Elementary School and would love to tell you about The Duke Of Edinburgh Program at CFI.
Recently, the British Embassy in Phnom Penh invited Children's Future to run an international award program called The Duke Of Edinburgh. CFI is very happy to be the first organization in Cambodia that runs this program.
The Duke Of Edinburgh Award is delivered in more than 140 countries around the world and helps to inspire 14-24-year-olds to dream big, celebrate their achievements and make a difference in their world.
Around 1.3 million participants are currently completing their own award program, via hundreds of thousands of partners, including schools and youth organizations. The four main activities focus on physical recreation, service, skill development and challenge through an adventurous journey.
Physical recreation is one of the activities that participants need to complete by choosing any activities related to exercise like running, swimming and playing sports.
Service is also a great activity for participants to be involved with any society or their community like taking care of old people or providing education workshops about health.
Skill is the activity that they want to improve on their existing skills like teaching or painting, but everyone's favorite is an adventurous journey. Through this activity, participants will learn a lot because they will go to a place that they have never visited before and find the information via the topic that they chose.
This program lets participants choose what they want to do to improve or change in their everyday life. Through those four activities, participants will experience new things and face a lot of challenges but they will learn how to handle those problems by themselves.
Because of these benefits, I see most of the youth at CFI interested and register in this program, and I can't wait to join when I'm old enough.