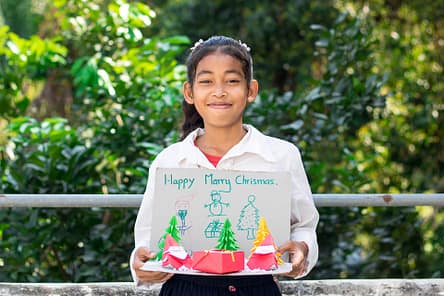 Channy, 12, is a student at Pheam Ek Primary School and is one of our student reporters. In this story, she tells us about how she celebrates Christmas Day in Battambang.
Every year on the 25th of December is Christmas day. Many people celebrate with their friends, family and their loved ones. They decorate their homes and garden with lights, Christmas tree, exchange gifts and much more.
In the morning I go to public school as usual and after the first session my classmate starts to give candy to everyone in the class at the break time, and some people start to exchange gifts with each other. They also give gifts to the teachers to honor their effort in teaching us. Some of them give flowers, tidy bars, cake, and candy. After class, we have a small party together. We buy some food and drink, we play songs to sing and dance, and everyone has a great time. It makes our relationship between students and teachers more close to each other.
In the afternoon, I went to study at CFI as usual and at CFI the teachers in the library had a small session with kids who what to make a gift or decorate DIY stuff for themselves so they can join to have some with each other. After class, I join to create my dream decoration house with other kids. It was fun and happy that teachers help us to make the gift on Christmas day.
On the other hand, I ask my sister who works at night pub in Battambang about how they celebrate Christmas day and she said, Battambang is much different than the normal day when Christmas comes. A lot of shops decorated with lights and Christmas tree, many boxes of gift selling in front of the shop, seller dress up as Santa Claus and give candy to kids, discount related to Christmas stuff and even free Christmas hat to customers. At my workplace, they decorate the music stage with full of light and play a lot of Christmas music. People come to drink more than the normal day so much more busy than every day.