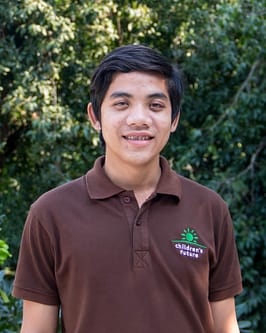 You may recognize Visal. We last wrote about him in September 2016 under the pseudonym "Tola". Now Visal is an adult and has given us permission to use his real name.
At the time we told you how amazing he was as a student and how he studied hard to become the top-ranking student in his class and tried to solve school problems by himself. More than three years later Visal continues to impress everyone with how confident he is to choose his own way to make his dreams come true.
After Visal graduated from high school in 2017 he was offered the opportunity from CFI to join the internship program working as a teaching assistant. In the same year, Visal applied for a university scholarship to CFI in order to continue his dream and he chooses to study Management as his major.
When he was a teaching assistant he led students very well, he taught the students how to learn as a team, he encouraged them to help each other and be nice to their friends. Children at CFI really enjoyed learning with him and they never get bored during his class. During the internship program with CFI, Visal learned a lot of things about teaching and managing, and he had a great time with all the children here.
Children told us "I love learning with teacher Visal because he always makes us laugh when he explains the lesson."
Moving from high school to university life was not easy for Visal, he faced a lot of challenges when he started his first year at university. His house was far away from his university and he had to ride his bicycle to school and back to work. Visal's university was 10km from his home. He needed to be ready before 7 o'clock in the morning and rode his bicycle to school every day but never said he tried because he knew this is one of the ways he could succeed in life.
"I loved riding my bike to school in the morning but it took a lot of time and often I was late."
After the first year at university, Visal decided to get another part-time job at night so that he could earn extra money to support his university and to buy textbooks and materials for school. When his internship contract with CFI finished, he started working full-time as a waiter at a restaurant in town.
Because of his great work at the restaurant, Visal was promoted to be the service manager and he decided to put his degree at University on hold and focus on his job to help his family and save up some money to continue his degree.
Visal still wants to be a policeman in the future but because of his family situation, he is postponing his goal with this job so that can support his family
"I really want to be a policeman but for now I will do my best at this job so that I can support my family. " Visal said.
Visal also has some advice for the young kids at CFI
" If you have a chance to study at university, don't quit. Try your best to finish university so you can help a better job in the future."