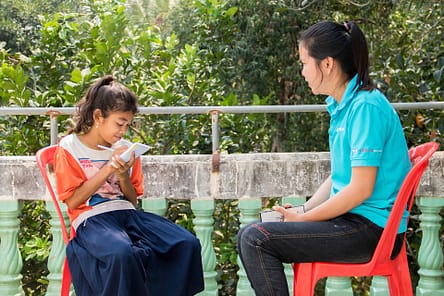 Here she goes again, Channy, aged 12, a student at Pheam Ek Primary School and is one of the most active student reporters. In this story, she wants to know what it would be like to work at CFI, so she interviewed our Finance Officer and here are the answers.
Channy: Could you please introduce yourself?
Finance Officer: My name is Meng Lina, I'm the Finance Officer at CFI. I have completed a Bachelor's degree in Management, majoring in Finance and Accounting. I had worked in many companies and NGO, prior to starting at CFI.
Channy: Could you tell me briefly about what you do as a Finance Officer?
Finance Officer: My responsibility is to check vouchers for staff when they claim the money, manage the organization's budget, prepare payments for suppliers, prepare the monthly payroll for staff, prepare our tax and National Social Security Fund contributions, and prepare financial reports for our funding partners.
Channy: How many years have you been working at CFI?
Finance Officer: I have been working at CFI for almost two years now. I started in May 2018.
Channy: What new things have you learnt so far?
Finance Officer: It is such an amazing experience to be a part of CFI's work to help this community. It's also a great place to work as CFI has a big focus on staff capacity building. We often have in-house training opportunities to attend workshops with partner NGOs. CFI is always open to new ideas to develop our work and ensure we work faster and easier. For example, when we have a new project, CFI always discusses it with all staff and gets their ideas to find the best way to run it.
Channy: What do you love about your job?
Finance Officer: I love working at CFI for two main reasons. Firstly, this is my dream job. I am proud of myself to be a part of a job that supports the community and helps vulnerable children to find a bright future. It is ten times better than just working for a private company. Lastly, the wonderful staff that works here. We are like a family here – everyone gives love, respect, and support to each other. But it also includes the students, they always say "hello" whenever I meet them, the sound in the garden when they play with their friends and their amazing smiles make my heart melt.
Channy: What is your goal with CFI?
Finance Officer: For my future goal with CFI, I'll do my best to build more capacity in the finance department and support CFI staff to work easier and reach more people, and be a professional NGO in Battambang.