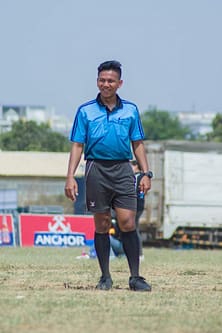 Just For Kicks (JFK) is a program from the Enabling Leadership (EL) organization in India which was created to develop young people's life-skills like communication and leadership using football. Recently, EL partnered with CFI to run this program in Battambang, Cambodia with young people in public school to help them build their leadership skills.
For the first year of the program, JFK chose four state schools to run the project which meant each school needed a football coach to train groups of kids. In this story, we would like to introduce you to one of the football coaches in the JFK program, Thearak.
Thearak is 23 years old. He is a fourth-year student​ majoring in Animal Science​ at the University Of Battambang. In his free time, he likes to play football. He learned to be a football referee and before he joined the JFK program when he volunteered at a similar non-profit organization.
And when we asked him why he joined JFK, he said " I joined the JFK program because I am currently looking for a job related to football to earn some money to support my education at the university and to develop my football skills at the same time. Importantly, I want to use my knowledge to help children in the community to learn about life-skills like communication and leadership. I also want to learn more about how to build a good relationship with children and how to work with them in different behavioral situations, so we can help break the intergenerational cycle of poverty in this community". A key value of the JFK program is: " we believe that every child can be a leader ". Thearak told us he is proud to be a part of developing his country by supporting children in the community, so he feels like the JFK program is the perfect job for him!
"When I first joined the JFK program I was pleasantly surprised by how much there is to it. Before we even started sessions with students they trained us in heaps of areas related to leadership. They showed us what a session looks like with real practice in the field. They've prepared lesson plans for us every week but we can change some activities based on the student's needs and understanding." says Thearak.
After he coached a few sessions with the students, he told us: "I really like this program because the kids can learn a lot of life-skills and have fun playing football with their friends, getting healthy at the same time. Every time the kids hear the sound of my motorbike coming to the school they are excited and shout calls to their friends "Teacher Thearak is coming… Teacher Thearak is coming…" that makes me feel very happy to coach them. I'll try my best to share all the knowledge about football with them as much as I can. I am so lucky to find a job that I love where I can help children in the community too, I couldn't ask for a job better than this. I'll be with the JFK program as long as I can".