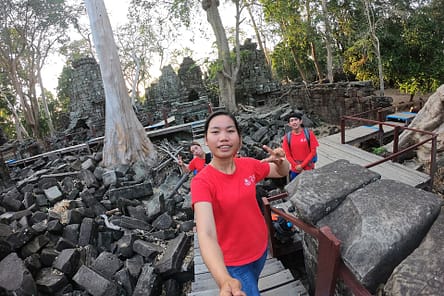 The Duke of Edinburgh Award is a life-changing experience, a fun time with friends, an opportunity to discover new interests and talents and a tool to develop essential skills for life and work. This program has expanded to 144 nations around the world and it is such an honor for Children's Future to be the first organization in Cambodia to run this program with the young people in Battambang.
This is CHANTHOU, the first person to finish all the four sessions activity of the Duke Of Edinburgh Awards in the Bronze medal, in Cambodia! We had some questions to ask Chanthou about her experiences with the DofE program and here are her answers…
Interviewer: Please introduce yourself.
Chanthou: Hello! My name is Chanthou, I'm an intern working in the Education Advocate team at Children's Future International.
Interviewer: How do you know about the DofE program?
Chanthou: I know this program from Sokha, the Project Manager at CFI, when he shared the information in the intern group meeting.
Interviewer: Why do you want to join the DofE program?
Chanthou: I wanted to join the DofE program because this is the first program in Cambodia and I've never seen anyone do it before. So I wanted to try and see how helpful this program is and how can I improve myself through this program, and I also want to know if I am ready to do these kinds of activities.
Interviewer: What did you expect when you joined this program?
Chanthou: I expected to learn deeply in the three main activities of the DofE program, Skills, Physical, and Service because I think it would help prepare me for my future goals. What I was excited to do the most was the Adventurous Journey, I wanted to explore new places, meet new people, and do what I have never done before.
Interviewer: What did you learn from the DofE program?
Chanthou: After I finished the Bronze medal of the DofE program, I now see myself in a different way. Here is why:
Firstly, Physical activity, Before I joined the DofE program, I just did not want to do any exercise after coming back from work. But after I did the Physical Activity for the DofE program, I found myself enjoying playing tennis for exercise and I am more healthy than I was before.
Secondly, Service activity, I volunteered to do the follow-up attendance check at public school every week. I learn a lot from this. I am more confident to talk to school principals and know the process of how to work with them.
Thirdly, Skills, I am really proud of myself for learning to do sewing. I learned a lot in the past few months, I know how to sew the clothes and design a new style of clothes.
The last activity and the one I really wanted to do the most was the Adventurous Journey. I am very very proud of myself because this was the first time I went on a journey far from home and stayed out of my house. I had a wonderful team, they always helped each other to complete the mission. I visited new places, met new people, and had a wonderful experience in my life.
Interviewer: Do you know that this Award is delivered in over 140 countries worldwide and you are the first person in Cambodia to complete it – so how do you feel?
Chanthou: I feel pleased to be the first to finish in this program. I never thought that I'd be the first person to finish it.
Interviewer: Do you see yourself as a role model for others – particularly young women?
Chanthou: Yes, I do. I would say to young women, even if you are a girl you have to have a strong persistence in whatever you do then you will succeed. If you don't believe in yourself and you think you can't do it then you won't do it. But nothing can't stop you if you believe you can do it.
Interviewer: After the Bronze medal are you planning to complete the Silver medal? If so, Why?
Chanthou: I really want to join the Silver medal but I may don't have time for it. I need to finish my studies and get a job to support my family.
Interviewer: Do you think the Award should be available for more young people in Cambodia – and why?
Chanthou: Yes, I think the DofE program should be for all students in public school because it will help you to know yourself and build your relationship with new people, more persistence in whatever you do, and belief in yourself.
Interviewer: Do you have any recommendations for the next generation?
Chanthou: Yes, I do. If you have time and you want to learn new experiences about life, this is the right place for you. You will learn new things that will help you a lot with your future goal.