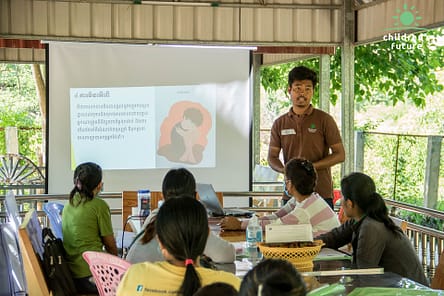 CFI has been successfully running positive parenting programs in the Ek Phnom district over the past year. We help many parents understand how to take care of their children in the best way possible and provide children with everything they need to become a human resource in their community.
Last month, we started our first session for the second positive parenting training at Thmor Kol district, a new area for CFI to be working in. We invited 25 families to participate once every month and due to the Covid-19 situation, we've separated the group into two smaller groups of under 15 people. This helps us to make sure everyone stays safe with good physical distancing in place.
We will hold regular sessions over the following six months with different topics every month. The topic for the first session was Child Protection. We showed parents how to protect their children from emotional abuse and sexual abuse. Understand the kinds of childhood abuse and notice the effect of abuse, and how parents should be open to listening to children's words.
The feedback from the first session was fantastic. The parents were engaged with the training and really like the topic. It helps them understand more about child protection and what they can do to help their children grow up in a safe environment.
"This will help me to understand my children a lot. Before participating in this training, I really didn't know that small things I did can hurt my child's feelings for a long time. I will try to understand more about their problems and be the ones they can turn and talk to when they need it." one parent told us.