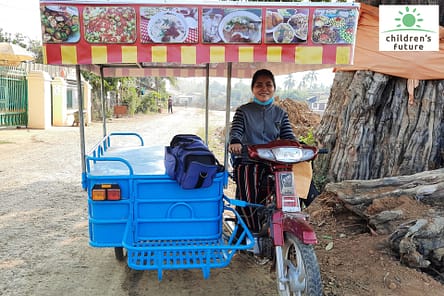 Caring for your family is on top of everyone's list. Just like Srynea, when we met her a year ago. Sreyna is a single mom taking care of four children. When we first met her she didn't have a regular job. But she was motivated and eager to succeed, to keep her children happy and healthy, and to be a great role model for their future. Sreyna tried to find work wherever she could and worked as a cleaner to waitress, to pay for her children's food and the house rent.
When we first heard of Sreyna's story from the local authority, our social work team immediately visited the family to assess the family situation and to check the children were safe. We could see they were part of a loving family who needed a bit of extra support. For a while, we provided monthly rice support with some groceries and school materials for the kids.
Every month we followed up with the family to ensure they were getting the right support. We also worked with Sreyna thinking about her future plans for her family; what she wants to do, how she's going to do it, and how we could help to reach her goal.
After a year of hard work from the family and support from our social work team, this family was able to save up money from the monthly spending on food, to buy a new motorbike to start a small business selling fruit on the road. Sreyna has also moved in with her sister, who helps her take care of the kids when she's outselling fruit, lowering the house expenses for everyone.
This is a great sustainable outcome for this family and Sreyna can now be a proud role model for her children as well as others who are fighting to support their family.
Thank you to Global Ministries, 3PC, and UNICEF for supporting our social work program!