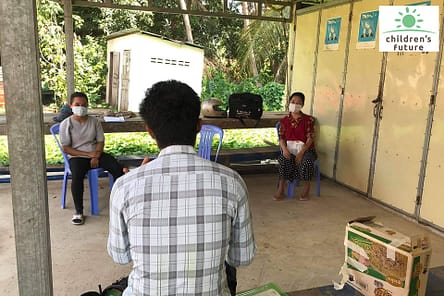 Even though Covid-19 is still around, we do whatever we can to keep engaging with families and to ensure everyone is safe and well.
Recently we got approval from the District Chief allowing us back in the community. Now we can see 1-2 people at a time, using established precautions such as safe distancing and masks so we can continue providing our Positive Parenting workshop to families who need it.
The CFI team came together to find a better way to provide this workshop to the family and we decided to do this in two ways. Group 1: we have staff to visit families at their house and provide the workshop as usual in small groups of two people max. Group 2: we provide this workshop online via google meet or a zoom call in a group of 5 to 10 people.
At first, it was a bit challenging for our staff because it takes time to run the workshop sessions with several small groups, but we are getting faster all the time and the families are great. We love their flexibility to try learning these skills in new ways.
A big thank you to 3PC | UNICEF who support this valuable project, supporting families to learn the right way to raise their children.