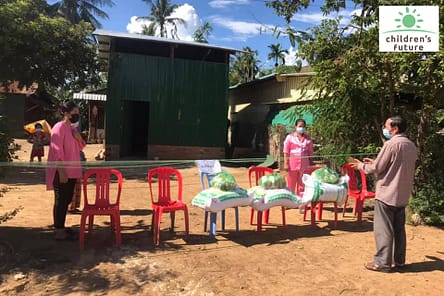 In the past months, COVID-19 has taken over Cambodia, and more than 700 people have been infected by this virus every day! Some places in Phnom Penh and other provinces are under a strict lockdown situation.
In Battambang province, more than 50 people daily are infected. The public school has become a quarantine place for people who had COVID-19. The market is closed, people lose their jobs and don't have any income to support themselves and their families.
The people whose family members had COVID-19 and need to go to the hospital for treatment, have to stay in quarantine for 14 days at home without going out to make sure they're not infected by a member of their family. Imagine, how are you going to have enough food to eat during these 14 days? (Many Cambodian people buy their food daily, as they don't have storage facilities or refrigerators).
Through the support from the 3PC network and the help from local authorities, we are able to provide rice support to families who are in quarantine in Ek Phnom District. As of today,​ we have supported 39 families, 208 people in total with 97 children who really need the support urgently.
Thank you to everyone who was involved with this amazing work to help children and families needed. We will do our best to continue seeking to help more families who really need this support.