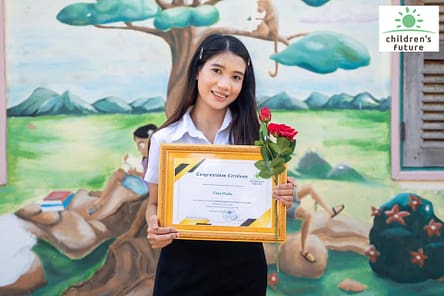 Congratulations!
Phalla is one of the five university students who just graduated with a bachelor's degree.
Join us as we chat with her and learn a bit more about her journey to graduation.
Phalla is a former CFI student. When she was younger she received supplementary education support from CFI. And in 2017, she started her university degree. She also worked as an intern at CFI in both the school and social work teams.
Starting in the School team, Phalla supported Khmer, Math, and English classes, help to design lesson plans, worked as a librarian, and helped purchase school materials. She then applied to work as a social work intern and worked for 6 months supporting the social workers to prepare reports and support families and communities.
Phalla was also involved with other interns in organizing CFI staff dinners and CFI graduation day ceremonies.
After completing the internship, Phalla obtained work as Assistant Manager at a Battambang restaurant, and in an accounting role in a private firm before returning to work at CFI as Admin, HR/Finance Assistant.
Here she is able to apply her skills from her major at university. In the future, she would like to become an auditor.
Recently, Phalla and four other university students graduated with their bachelor's degrees. Phalla has completed the first stage of her dream by graduating with an accounting major from Vanda Institute in Battambang. Well done, Phalla and all CFIs graduating students!
Phalla says "I learned a lot from the intern program at CFI which helps university students and vocational skill students learn new skills, get new experiences, and apply for future jobs".
We can't wait to see what Phalla will bring with her to develop her skills at work.