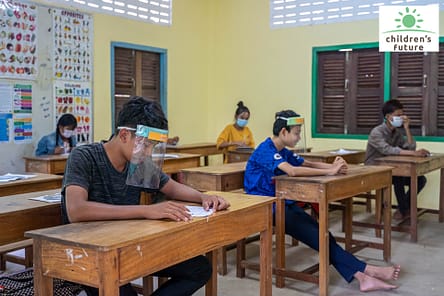 Due to COVID-19, CFI school was closed for almost 18 months. The students remained at home and took online classes.
CFI is excited to announce that the Learning Center is back and we're ready to continue the learning with young people again but we're still following the government safety protocol to ensure everyone is safe and feels comfortable during their time at CFI.
The first thing we do when young people arrive at CFI is to check their temperature, spray their hands with alcohol cleaning gels, and provide a washable mask in case they don't have one.
In the classroom, we make sure to keep the distance from each student's table, decrease the number of students in each class and open all the windows to keep the environment open to both student and teacher feel comfortable.
We also apply this rule to the library when the kids have their free time and they come to play or read books in the library, we keep the distance between students and allow only a limited number of students in the library at a time.
A huge thank you to the Education team who prepared all of these safety protocols to keep the student safe and educated at the same time! Well done!