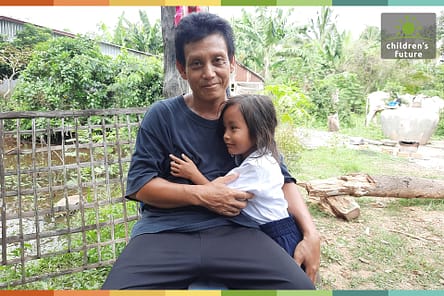 Thyda is a five-year-old girl living with her 40-year-old father, Yong, and her mother in Korngthum Village, Peam Ek Commune Ek Phnom District Battambang Province. Unfortunately, Thyda's mother is ill and cannot walk or support the family, and she also has extensive medical bills that the family must pay each month. Between the medical bills, money to keep Thyda in school, and daily spending on food and necessities, Yong has recently struggled to support the family.
Yong sometimes works in construction, but the work is not consistent. When he does not have work, his neighbor gives them money for food and schooling. Even though Yong has no sustainable job, he still does his best to support his family and keep Thyda in school. He also receives some money from the government from a program created during COVID-19 to support poor families, which is around $50 per month.
After CFI visited and assessed the family, our team decided to support the family with monthly food support, basic household materials, and school supplies for Thyda to go to school, along with a new bicycle to help her get to school safely. This short-term support was intended to help Yong get back on his feet again while working on long-term solutions for his family.
CFI social workers discussed possibilities with Yong, and he decided that he wanted to start his own small business to generate income while having the time to take care of Thyda and his wife. Yong chose to work with CFI to begin raising chickens and ducks at home.
CFI provided the start-up materials for the small business, which included a package of 25 adult chickens, two ducks, and some money for building the chicken and duck's house. In addition to physical support, CFI's social workers provided advice and training on raising poultry and basic small-business skills.
After a couple of months of raising chickens and ducks, the family situation is much better. Yong can sell some chickens to support Thyda to go to school regularly, pay for the daily food, and produce more chickens to sustain the business.
We asked Yong about his future plans, and he said, "I want to expand the raising chickens business and get a machine to make chicken feed out of food scraps like vegetables and rice. I will continue to send my child to school every day, and I want her to finish high school and go to university."
Yong is so happy with what he has right now, and he thanks everyone involved with this project, especially the donors for the business start-up program.
"I will share this knowledge with my neighbors and friends who want to start raising chickens at home just like me," Yong says.