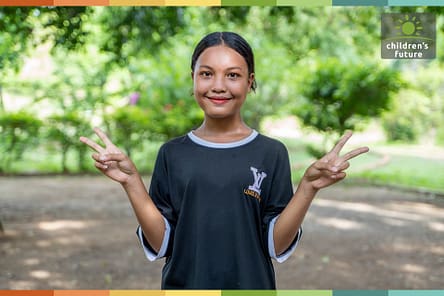 Meet Mony (pseudonym), a 13-year-old girl with one older brother & one older sister. She has been with CFI for 7 years and as a member of CFI's student reporter group, Mony will share a day in her life as a grade 7 student at the Kdol Donteav High School and at the CFI Learning Center.
"I usually wake up at 6 am to help my grandma clean the house, cook the rice and wash the dishes and then prepare myself for school at 7 am. The school is about 7km away from my home, and it takes 20 minutes to ride my bicycle every morning.
After the morning session, which finishes at 11 am, I ride my bike back home to have lunch, take a shower, and relax before the afternoon session starts at 1 pm. During my relaxation time, I help my mother look after our small family convenience store or look after my young niece. Then, I leave to attend my afternoon school session.
When school finishes at 4 pm, I go directly to CFI's Learning Center, where I attend English classes. It takes me 30 minutes to ride my bicycle from my school to the Learning Center. If I arrive early enough, I play in the garden or join a football game with the other students. I like to play football with my friends to release stress from school and have fun with other students. If I am feeling tired and want to relax, I go to the library to read books, play chess and play with the toys with my friends.
Then I have my English class from 5 to 6 pm. After I finish my English class, I rode my bike back home with my friends. Once I arrive home, I help my mother to close the shop and cook food for dinner. Sometimes I hang out with my siblings and neighbors near my house while my mother cooks."
After dinner, I always help wash dishes and relax before doing my school and English homework. I also help my brothers to do their homework. Then I prepare my books and my supplies for tomorrow's schedule and go to bed.
Thank you for following along to see a day in my life as a grade 7 & CFI student. I love to keep myself busy and learn new things every day.