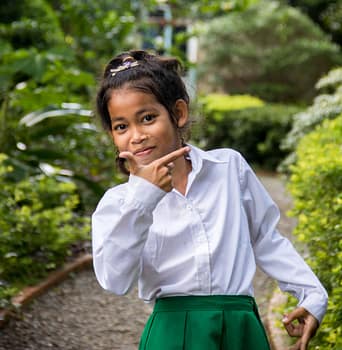 Channy is one of our new student reporters. In this story she shares her thoughts about CFI's learning center. Channy is 12 years old and she studies at Pheam Ek Primary School.
The CFI Learning Center is on the right side of the main CFI office. There are 6 class rooms, 1 library and 1 bathroom.There are 8 teachers. Three teachers for Khmer (Cambodian language) & Math, 3 teachers for English and the other 2 are Computer teachers.In the learning center we have 5 classes, but the sixth room is on the second floor of the main CFI office and library is on the first floor.
We only have classes in the afternoon starting from 1:00 to 6:00 pm. This is because the  younger students under grade 7 are at public school in the morning and the older students, are only free from 4:00 to 6:00 pm. In each classroom we have one white board, one teacher desk and around 9 to 10 student desks. And on the wall we have​​​ student's work and poster related to studying. For computer classes we have 14 computers for students in each classroom and one computer for each teacher.
When I have free time I always go to library to read books or play toys with my friends. There are so many books to read like Khmer stories, Adventure, funny books, general education, history etc. And for the young people who can't read, there is a librarian who always there help to them. When I am bored of reading, i can play toys with friends. We have so many of them like puzzles, toy cars, kitty, chess and alot more.
I love all teachers at CFI because they are kind and friendly. They always help me whenever i ask them to help with my lesson or homework. They are supportive and always encourage all students to study harder and harder. I would love CFI to continue supporting all students in my community to achieve their goal and have a bright future.