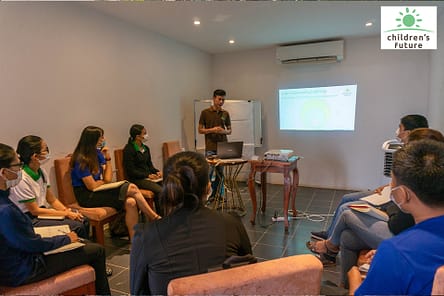 CFI had been successfully running the Next Generation Initiative (NGI) program supported by Rotary International with the young people in the Ek Phnom district. NGI helps young people get 'job ready' by exploring life skills and employment skills. In the past year, we had groups of students who finished the program and turned out to be a great human resource, ready for their first job.
We got great feedback on the content of the program from the young people who have experienced it. It changes how they see things and prepares them to be ready for their first employment. "After I joined the NGI program I see myself become the next level of me, I can take care of myself, I think and prepare more before I do things, I feel the confidence to face and solve the problem… It changed me a lot." A student told us.
Through these successes, CFI had an opportunity to share this important program with our NGO partners in Siem Reap and Battambang. So far seven NGOs have been trained to use this program with the children at their target area. This means we play an important role to help the next generation of young people in Cambodia see the world and the opportunity to grow towards a bright future, and to break through the cycle of poverty.
We are excited to hear how they get on and look forward to supporting the next generation of young people.